Ireo Skyon Sector 60 Gurgaon
With the perfect combination of modern outlook and functionality, Ireo Skyon is an interesting blend of Modern Living with Tranquil surroundings tucked away from the noise and pollution of the main city, yet located comfortably in the heart of Gurgaon just off the Golf Course Road, on the Golf Course Extn. Road, Gurgaon. Ireo Skyon is a very interesting community from multiple perspectives, firstly, it offers a tranquil and quiet surroundings owing to it's location. The community is located just off the Golf Course Extn. Road in a quiet and peaceful location away from the main road noise and pollution. Apart from being a great value for money buy at this point in time, there are many features that are interesting within Ireo Skyon apartments that are not available in many other residential communities in Gurgaon. Some of these include The Double Glazed Glass windows and doors across the entire stretch of apartment, Spacious running balconies, High Ceiling Height in side the apartments, High Quality Gypsum Partitioned Walls and one of the largest central green park  in this vicinity. Also the straight line architecture has a good feel to it and a lot of people really like it. The community offers some good quality features & facilities that are much needed in any quality residential community.
Ireo Skyon Apartments
Ireo Skyon community offers a mix of 2, 3 & 4 Bedroom Apartments, while there are two variants in the 2 Bedroom apartments, namely 2 Bedroom with Servant Room & 2 Bedroom without Servant Room which come either with the servant room or without. The 3 Bedroom Apartments come with Servant Room/Servant Toilet and the layout remains standard across all towers and the layout remains same in all towers for the three bedroom apartments. The 4 Bedroom apartments in Ireo Skyon offers two different layout variants.​
Given the price and the location of Ireo Skyon, it does become one of the most viable option for living and for investment in current times. The apartments are quick to go off on rent and there is a lot of traction from Expats/Foreigners who like to choose Ireo Skyon as their home. This is primarily due to the apartment layout being very interesting with large master bedrooms and spread out balconies and a feel of openness in Ireo Skyon.
From the perfect location, to the high-end amenities, to the personality built-in throughout the design, this residential community is ready and waiting to become the ideal home for you and your family.
Ireo Skyon Stats
Total Land Area: 18 Acres
Living Options: 2 BHK, 2BHK+SQ, 3 BHK+SQ, 4 BHK+SQ.
Total Number of Homes: 790
Occupancy Level: 78% Occupied
Availability Status : Limited Inventory – Call 9910-412-273 for Best Deals in Ireo Skyon.
Price Trend : Upward Bullish Trend in Short to Medium Term.
IREO SKYON KEY SPECIFICATION
Property Type – These are futuristic luxury homes for sale.
Location – The Ireo Skyon is located in Sector 60, Gurgaon.
Unit Configuration – Ireo Skyon comes in configuration of 2 BHK, 2 BHK + SR, 3 BHK, 3 BHK + SR, 4 BHK and 4 BHK + SR. configuration.
Unit size – The unit size at Ireo Skyon ranges from 1365 SQFT – 2791 SQFT.
Project Details – The project comprises of 6 towers with 39 floors and 790 units for sale.
Total Area Covered – The project is spread over 18.1 acres.
Possession – Possession at Ireo Skyon has commenced and over 150+ Handovers have been completed.
Ireo Skyon Features
100% Power Back Up – Feel Charged Up

Heating & Cooling Air Conditioning – Feel the warmth

Large Room Sizes – Enjoy Space

High Ceilings – Feel the Expanse

Home Automation – Feel the Convenience

Central Location – Live in the Heart

Quality Club Facilities – Bond & Socialize

Double Glazed Windows – Feel The Silence

24×7 Security – Feel Safe

Large Central Greens – Feel 

Rejuvenated
AMENITIES OFFERED AT IREO SKYON
Modular kitchen with HOB and chimney, stone counter top, stainless steel sink and CP fittings has been provided at the Ireo Skyon.
One of the most unique features of Ireo Skyon is certainly its panoramic sweeping balconies that overlook the lush green landscape, providing a beautiful scenic experience.
The villa like apartments with 10ft high ceilings and floor to ceiling windows giving the three-side-open apartments ample sunlight ventilation.
A luxury club house with ultra-modern recreation facilities for the residents us built at the Ireo Skyon.
A meditation centre where the residents can rejuvenate their mind and soul has been built at the Ireo Skyon.
For those who love to stay fit and healthy, a state-of-the-art Gymnasium is built at the Ireo Skyon Gurgaon.
A swimming pool where the residents can splash water and practice different strokes has been built at the Skyon.
Sports facility like a badminton court, a golf course, a lawn tennis court is also provided at the Ireo Skyon.
Start your day with a healthy jog at the jogging track built at Ireo Skyon sector 60 Gurgaon.
Indoor facility like a squash court is also provided at the property.
Let your kids free after a busy tiring schedule at the kids' play area built at the Ireo Skyon.
Parks where the residents can unwind after a long tiring day has been built at the Ireo Skyon.
Power backup stems have been installed for uninterrupted power supply to the residents.
24×7 water supply is also been provided at Ireo Skyon Gurgaon which is a great benefit.
Covered parking space has been allotted for the safe parking of the residents' vehicles.
Open spaces have been specially designed at Ireo Skyon to give a capacious felling to all residents.
3 tier security systems have been allotted at Ireo Skyon for the safety and security of the residents.
The project is Vaastu compliant which will fill your homes with positive energy.
IREO SKYON SPECIFICATIONS
WALL
Living room/ bedrooms: All the room will have POP punning walls with acrylic emulsion.
Kitchen: The kitchen will have tiles up to 2 feet above the counter and oil bound distemper in the balance area.
Toilets: The walls will have Porcelain tiles.
Flooring –
Living room: The living room will be furnished with Natural stone/High quality porcelain tiles
Master bedrooms/ Other bedrooms: The bedrooms will be furnished with AC4, HPL wooden flooring.
Kitchen: The kitchen will have porcelain tiles flooring.
Toilets: The toilets will have porcelain tiles.
Doors –
Entrance door: The entrance door will be of timber flush make.
Internal door: Flush door
External door: UPVC/Anodised/Powder coated aluminium doors.
Windows –
UPVC/Anodised/Powder coated aluminium windows and frames.
Utility Room Specifics
Wall: The walls will have Oil bound distemper.
Floor: Ceramic tiles will be furnished.
Internal Door: Flush door shutters will be installed.
Windows/Glazing: UPVC/Anodised/Powder coated aluminium windows and frame will be installed.
IREO SKYON LOCATION ADVANTAGES
Ireo Skyon is located in the rapidly developing Sector 60, Gurgaon.
This luxury residential propertyin Gurgaon is located within the upcoming 500 acre master-planned Ireo city township.
Aptly located in sector 60 Gurgaon Ireo skyon is in close proximity both to Southern Peripheral Road and NH8.
The property will be in close vicinity to premium recreational district with hi-end retail, recreational clubs, 5-star hotel and much more.
Ireo Skyon sector 60 Gurgaon is approximately 2 kms away from the proposed Metro Station.
Skyon is merely 3 kms from Sohna Road and 2 kms from Golf Course Extension road respectively.
IGI airport is 30 kms from Ireo Skyon Gurgaon, IMT Manesar is 20 kms away and Cyber City Gurugram is 7 kms away.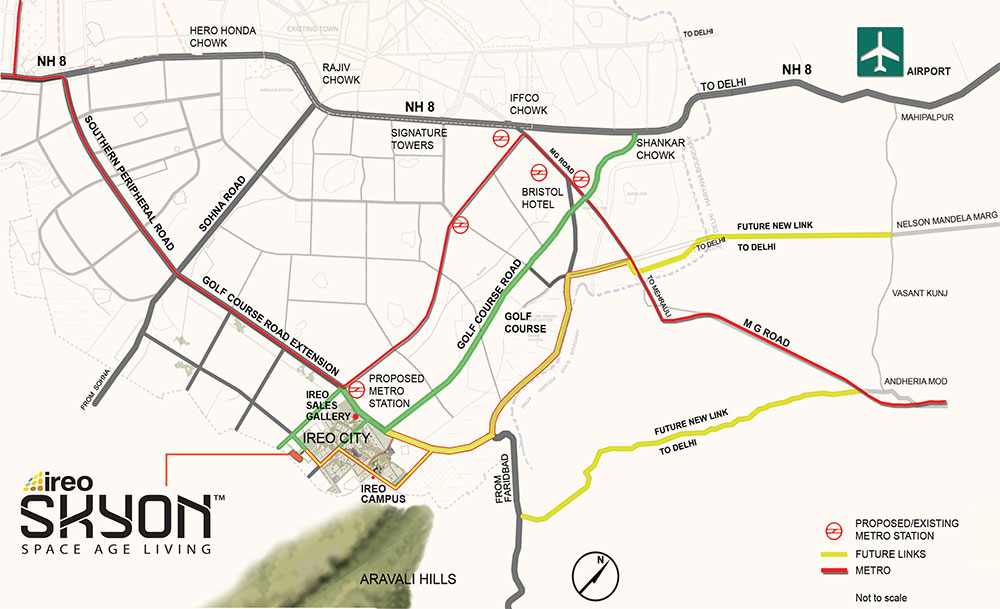 IREO SKYON MASTER PLAN